This page will be used for the comments and observations of my first cousin...who is CHRISTINE. Here, I will post her comments about my web site, and her general observations on life. It will be a little glimpse of "The world according to CHRISTINE".
8/3/2001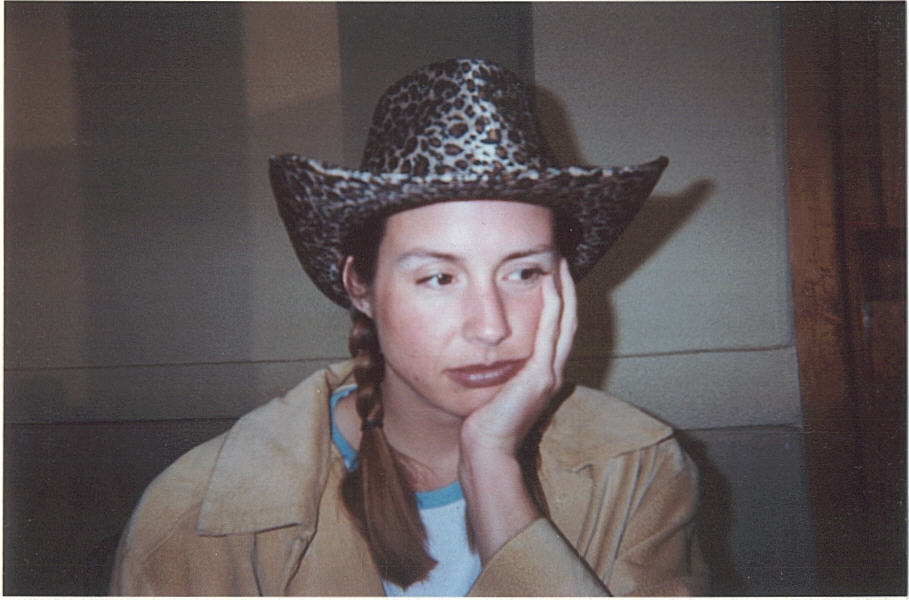 Hello from Sunny San Diego...this is CHRISTINE!
BONNE ANNIVERSAIRE A LA VOISIN
OU
(The cousin's Birthday Song)

"Today is your birthday (actually friday),
It feels like the worst day
the big 30...is quite blow
but you're still the high class hoe.

"Today is your birthday,
It feels like a cursed day
where are the lovers
have they found others

"Today is your birthday
It feels like the first day
of your new life filled with lots o' love and supa freakage.
and lets not forget the best--sexual peakage!"

So it is the Cousin's birthday and we all know what that means--serious hysteria. Yes I have been deathly afraid of 30 my whole life. ( I just don't think it suits me). Wouldn't it be nice if it was simply an option and after 29, 30 would knock on the door and say "hey here I am if ya want me". And we could say "Yeah, no thanks". Unfortunately, time has no compassion or empathy. It only has a job to do. But 30 is really not that old. I mean its only like turning 10, 3 times. So think about that. And we all know what fabulous skin the cousin inherited. It's funny how people age. Some people reached 30 early in their 20's--especially those who bought into the marriage and children scam. (It really is a big scam created by the mini-van and toy industry). But those of us who chose to actually be in our twenties in our twenties have fared much better--especially the cousin (or as I like to call her (le petit voisin)). Despite her feeling about her tortuous twenties, I think she has done alot of important introspection and self-discovery--not to mention a lot of important research into the victorian porn industry. Since I lived with her, I know first hand of the heart-breaks and and battles she has encountered from narcissistic body-building Tom, to selfish two-timing Chris (not to mention a whole slew of superfreakage in between) and with each one she has come out bruised, bloody and beaten, but nicadema never stays down for long. She is famous for licking her wounds and returning to the sparring ring stronger than before.

Bonne Anniversaire le petit voisin. Je t'aime beaucoup!! I know your twenties have been a pain in the ass, how much cooler you are complete with all your scars and war-wounds than other 30 year olds who found companions, but sacrificed themselves. Experience is everything!!

Ok well, I love you--I will be up the weekend of the 18th hopefully you will be there and we can celebrate your b-day.

Love,
the cousin

Christine sent this picture to me. It shows the eldest, Julie (christine's Sis), our cousin Phil (the pervert)who is six months older than I am, me, and Christine (the youngest) on her sister's lap. WE have always had this joke about the two of us being secret Lesbian Lovers--(we say it just to see our Aunts cringe) Christine thinks that this picture shows our first "experience" with each other. I suppose she's baseing that on the location of my hand. She's a sick puppy--but I love her!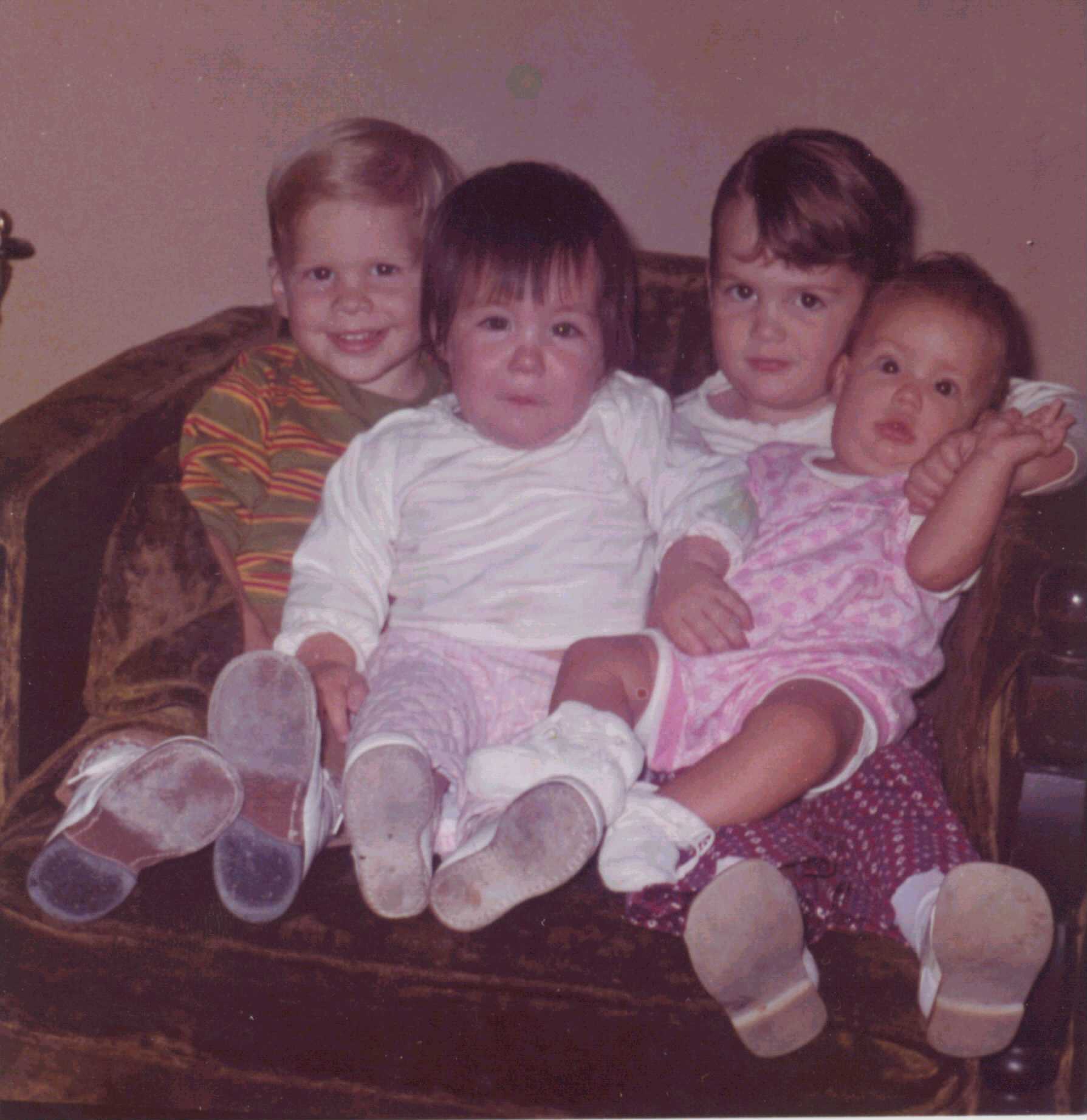 THE COUSIN ON THE COUSIN

A commentary by the cousin



Hello,

This is the cousin.



Nicadema has been my favorite cousin since our very first meeting, upon which she reached out to support my feeble head, which was flailing about on my undiscovered neck. (We would discover the usefulness of the neck later). And this was the beginning of our long and beautiful relationship. We would spend many summers on the ranch together partaking in extremely important activities like capturing tadpols and storing them in the pool filter (and then forgetting about them until years later when we'd be swimming and delightfully discover that we were not alone). We were always in the process of constructing the cousin headquarters out of scraps of wood and metal that we found in the junkyard. This was an extremely important place where we would discuss important cousin business. We were often joined by another cousin Phil who was really fond of playing doctor and "house" in the cousin headquarters. The cousin and I never needed introductions or small talk we were all about getting down to business. Years would go by without contact . It didn't matter. There was no need for catching up. We always had important business to attend to like running off into the hills armed with scraps from the junkyard, frogs and our imaginations. Yes--we were the cousins.



Stay tuned next time for the poem.............

ODE TO THE COUSIN



my e-mail: cmann74@hotmail.com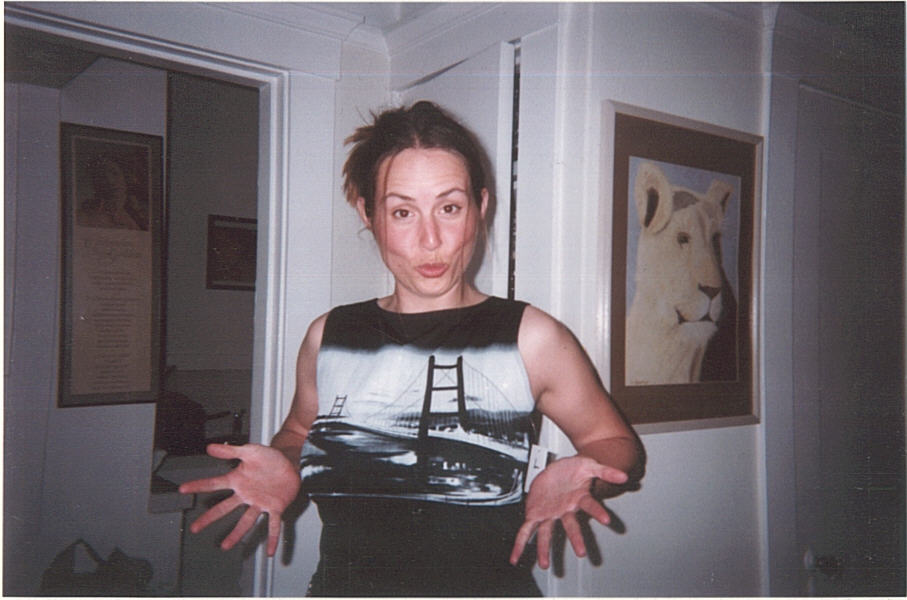 For those of you who may not know--Christine and I are 11 months apart in age. When we met--me being a little over a year old and her merely months old--I reached out to grab her. Her wobbly neck DID make "seeing on her" difficult. The rest is history. :)